This Social Media update helps close out the year. But it's not so much of a bang as it is as a shout. 2015 will probably be a better year -- and as internet and interactive rules change, you've got to get your new year's strategy going. This media update should get your creative juices flowing!
Basic Approaches: Overhaul Your Social Media Marketing Strategy
Massive and growing volume of free research: 27 million docs
How Jack Daniel's reacted to Facebook cutting organic reach
Use Facebook to Your Advantage, Despite the Changes
5 Tips for Using Social Media During Conferences
Social media advertising works: Here's why
... and the continuing world of social media and networking
New Research Shows Which Social Networks Ideal for Marketers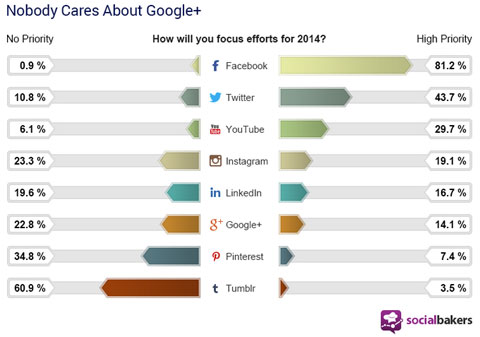 Which platforms are most relevant to social media marketing right now? Marketers need to know where (and how) they should focus their efforts for maximum ROI. This article gives you four major research findings from reports tracking trends in social media marketing and the content that works best on each.

Full story : Patricia Redsicker --
What to Do When Social Media Is Not Working For Your Business
Is social media not working for you? Are you struggling to form a social media connection with your audience? Have you found that the recommended "getting started" tips and tricks for social campaigns just haven't resonated with your followers?
The truth is, while there are plenty of audiences that respond well to social media marketing attempts, there are others that don't for a number of different reasons.
In this article you'll find out how to recognize the variables that could result in an audience-marketer mismatch and how to work around them.
Getting Started : http://www.socialmediaexaminer.com/getting-started/

Full story : Eric Siu - Social Media Examiner
2015 : Social Media Trends Every Entrepreneur Needs to Know
The social media landscape is evolving rapidly, and therefore, your social media marketing strategy cannot remain static. Instead, it's important to reevaluate business goals, social media campaigns, platform results and revise your strategy at least once a year -- if not quarterly.
Being aware of trends in the social sphere can help you design better strategies, apply the most effective tactics and choose where to invest your staff as well as financial resources. Here are the top five social media trends every entrepreneur needs to think about for 2014 and beyond:

Full story : Jayson DeMers -- Entrepreneur Media, Inc.
The next wave of tech change: Self-publishing and libraries
Over the past 30 years or so , there have been several waves of technological change in the library world. First was the replacement of the card-based catalog and circulation system with the integrated library system (ILS). Second was the replacement of paper journals with electronic databases. Third was the adoption of the PC. Fourth was the rise of the World Wide Web.
Self-publishing isn't new.

Full story : Library Journal
Inside the Science That Delivers Facebook and Twitter Feeds
Ever since Twitter and Facebook debuted their feeds in 2006, the model of continually streaming updates has come to define how we consume information. We've grown accustomed to a world in which data flows by us, letting us dip into the stream whenever, wherever, and however we want. But feeds have really taken off in the mobile era, with hundreds of apps overcoming the limitations of the small screen by presenting information as a swipeable stream.
To Facebook CEO Mark Zuckerberg, it's obvious: "Every new product that wants to build engagement bases its design on feeds." And no one has mastered the art of feed design like Twitter and Facebook. Both companies have endlessly experimented, devising techniques to deliver the stories and updates users care about—and avoid overwhelming them with noise. The result is a series of computations that are as crucial to the information industry as Google's search algorithm. Here's a peek under the hood at what went into building Twitter's and Facebook's feeds—and how they keep you glued to the screen.

Full story : Steven Levy - wired.com
How old school publishers can win in the digital age
Like many millennials today, Yale classmates Henry Luce and Briton Hadden left their jobs to create a startup. They found newspapers dry, longwinded and boring and thought they could do better by presenting stories in a faster paced, more personality centered format.
In 1923 they launched Time magazine and it became a runaway success.

Full story : Forbes
3 Essential Podcast Tools for Stellar Webcam Events
Video podcasts and v-logs are soaring in popularity. Whether it's Skype, Google + Hangouts, You Tube, or other more sophisticated (or unsophisticated) platforms, they are a great way to gather and connect around a popular subject. In order for your homemade webinars, video chats, or video blogs to look and sound inviting, there are three essential podcast tools you should invest in.
Thankfully, none of them are very expensive, but will add a professional look and feel to your webcam productions. In the same way you build and guard your brand (personal or company) online, a poorly produced podcast can make you look unprofessional and disinterested in your audience. Worse, it can just plain turn people off. Just like running across something very annoying on television, people won't stick around to hear all the good things you have to say.

Full story : Social Media Today
---
More: Social Networking and Media Updates
And that wraps it for this edition of Marketing Update from DTG. And if you want to dive into the world of social media with both feet, just get started on this list.
Don't forget ... we encourage you to share your discoveries from the world of publishing, media, online and creative. Just give me a shout!
And, ... Thanks for reading
Editor/Publisher : DTG Magazine
+FredShowker on Google+ or most social medias @Showker
Published online since 1988
---
Don't forget ... we encourage you to share your discoveries with other readers:

Send an email to our editorial staff

Contribute your own article

Follow DTG on Facebook!

PIN THIS with DTG on Pinterest

Fred Showker, Design on pinterest